If you decide to wear a bra, you are advised to find something that fits properly and comfortable. Wearing a bra that's less than optimal will take a toll on your health at the long run. Also, I'll-fitting straps and wire will dig into your skin. Wearing a bra without sufficient support will also hurt your posture and definitely cause pains in your neck, your back and your shoulders. A bra should also compliment your clothes. A well fit bra will leave you feeling good and boost your confidence about your looks. Below are some of the things you have to consider when purchasing a bra:
Shape of your boobs
Breast size
Type of straps
Event
Padded or not padded
Wire or not wire
Full brand or brand less
There are many types of bras. We have compiled for the top 32 types of bras that will leave you feeling confident and relaxed while also helping you attain that stylish diva effect you are looking for. Listed below are the 32 types that we will discuss them in details later on:
32 Types of Bras
Here's a Sneak Peek of the Different Types of Bra with Images and Names
1. Sports Bra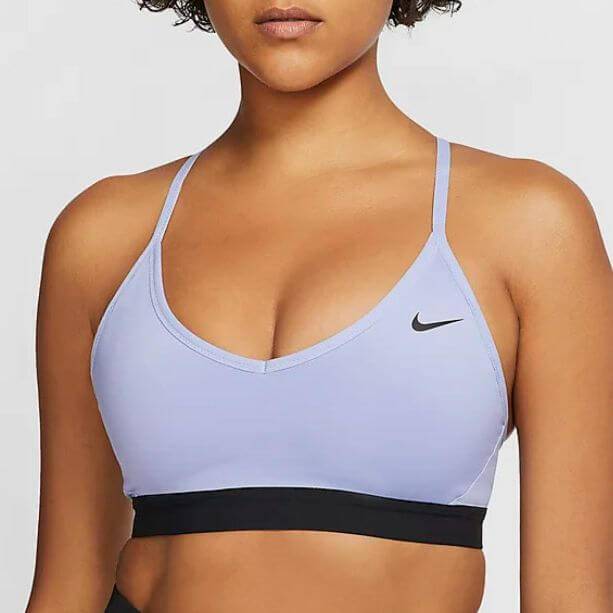 Women sports bra are designed to provide support to the breasts during workouts. Engineered to prevent bounce. They come in a variety ranging from padded, compression or encapsulation, pull-over, back-clasp and much more. Sports bras today are performance oriented and are specifically designed to support your breasts based on the intensity of your workout. Below are the categories:
HIGH IMPACT: These are used at highest level of physical activities like running, racquet sports, aerobics and dancing.
MEDIUM IMPACT: This category supports average or moderate physical activities like hiking, brisk walking or even road cycling.
LOW IMPACT: This kind of sports bra are meant for less vigorous activities which involve slow movements like yoga, Pilates or stretching.
They are good for all breasts sizes and shape. This is a must have for every woman.
2. Strapless Bra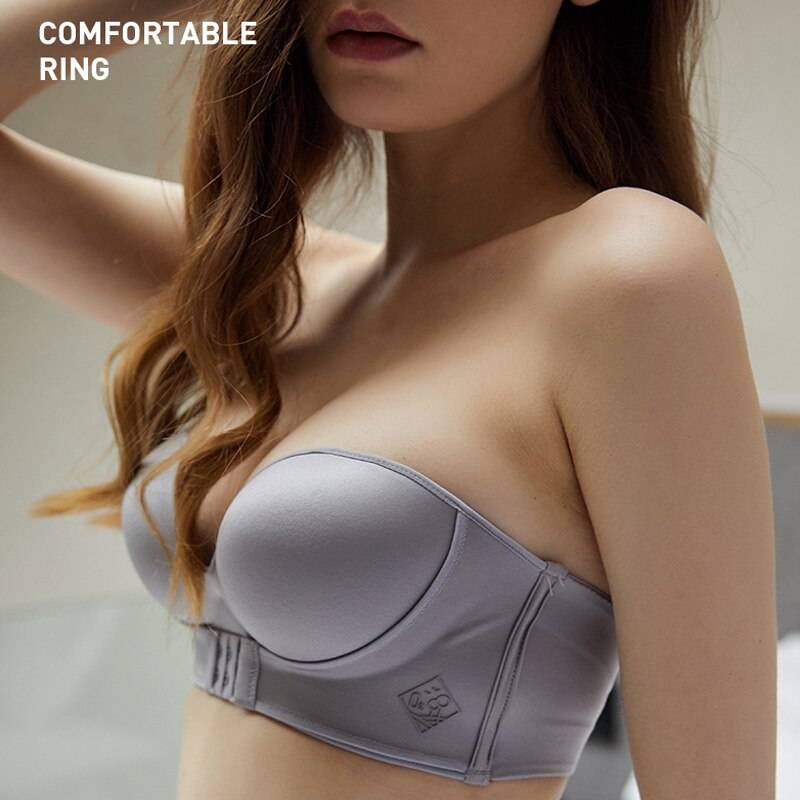 As the name suggests, a strapless bra has no straps; but no, it won't fall off. It is perfect for shoulder-barring outfits. The cups are held in place by a strong wired under-band and an inner silicon lining along the edges that prevent it from slipping. It is extremely important when wearing the strapless bra to wear the right fit for if it's too tight you will be uncomfortable and if its loose it'll keep on slipping off. Strapless are ideal for small breasts and can be worn maybe to parties with Bardot tops or off-shoulder outfits. It is advisable when wearing an outfit with the strapless bra to wear one that is slightly loose near the chest and tighter near the waist.
3. Push Up Bra
Nothing will work out perfectly for you if you want to add a lift and cleavage like a push up bra. The most flexible style is the one where the cutlets can be removed, so you will easily bump up your cleavage when you want but not have your breasts as the center of attention when you don't want to. These types of bra help you boost your confidence and feel sexy.
The push-up bra effects leave the upper, inner area of your boob's bare adding cleavage. Most of them use underwire to support your breasts. A push up bra will definitely be ideal for all shapes and size but are mostly recommended for small or saggy boobs. It might come in handy to add fullness to small breasts and perkiness to low-hanging breasts. Since they are wired, make sure that the wire does not bite into your skin but just perfectly fits you. They are ideal for low cut blouses or plunge neck outfits.
4. Backless Bra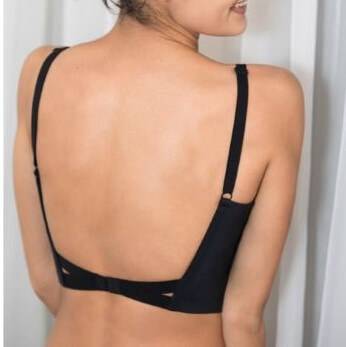 A low back outfit can be tricky to pair with a bra as visible straps and bands can spoil the looks. Backless bra feature transparent and clear back bands that can be paired with backless and low back dresses. The front cups may be padded or non-padded according to your preference. Stick-on bras can also be used as backless bras as they provide coverage only in the front. Backless bra is an ideal piece for women with small or medium sized breasts and is best for backless dresses and backless blouses.
5. Stick-On Bra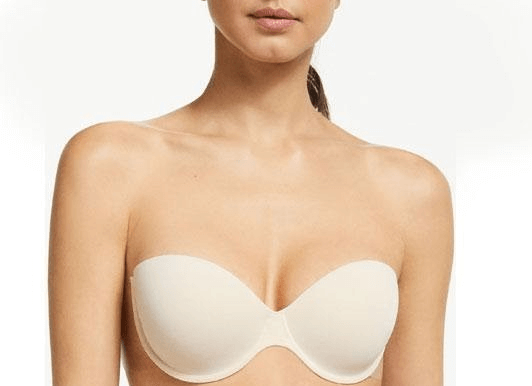 Stick-on bars are designed with a gentle adhesive substance along the cups and wings and stick seamlessly on to your curves. There are also efficient alternative where some bras have silicone stick-on that come without side wings. Stick-on provide you with optimum support, cleavage enhancement and a perfect lift to your boobs without being visible. They are ideal for women with small or medium boobs and work best when worn with anything backless, strapless or with plunge necklines.
6. Balconette Bra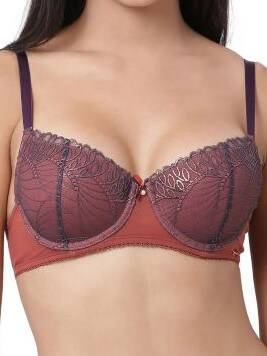 Balconette bra gives a gentle lift and a rounded appearance to the bust. They are under wired to offer support from the bottom. The cups partially cover your breasts offering less coverage. With wide set straps and cups that form an almost horizontal neckline, it will stay hidden under the widest of necks. Because of the less coverage, it is better suited for women with small or average sized breasts. They are mostly worn with wide neck tops, sarees or salwar suits.
7. Wireless Bra / Wirefree Bra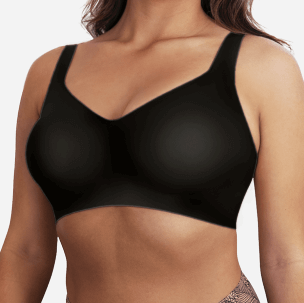 Wireless bras are more comfortable than under wired and can be worn for long period of time. These wire- free bras also offer great support when reinforced with molded cups. A wireless bra is a breather in its literal sense because it eliminates clasps and wire to keep you comfortable all day long. These bra is ideal is women with small and average sized boobs and is an everyday bra.
8. Lace Bra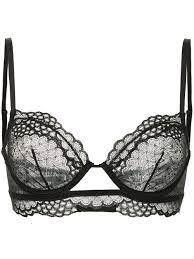 Lace bra is one of the most sensuous pieces of lingerie. It is made of delicate laces as the name suggests. It's one of the sexiest bra. The wire cups provide support and keep your breast in place. Lace bras are available in ranges of demi-cups, push-ups and many more variations. They are ideal for bedroom or honeymoon escapades or even those special sexy nights. It is right for all breast sizes and shapes.
9. Bandeau Bra
For ladies who prefer to wear tube dresses, then bandeau bra is the ideal bra for you. This stretchy piece of fabric is designed to cover your boobs. Bandeaus don't have hooks like strapless bras so it can be worn by slipping into them. Since there is no padding, underwire or structure cups in bandeaus, they are best suited for women with small boobs and can be worn with tube tops or dresses.
10. Plunge Bra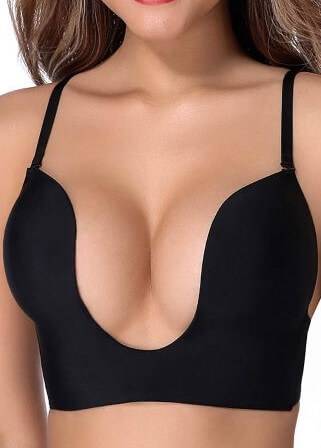 A plunge bra is designed with demi-coverage cups that cover one-third of the breasts and have a deep neckline all the way to the center gore. They are made to show off cleavage when in deep-neck outfits and giving your breasts a fuller appearance. They are best suited for ladies with small and medium breasts and work best under outfits that have a low neckline.
11. Maternity Bra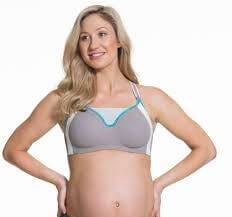 These bras are designed to give that extra comfort and support. They have molded cups of elastin fabric to accommodate changing breasts size and shape during pregnancy. They are smooth and provide full coverage and also hold the breasts intact. Some maternity bras even are made to serve in the pre-birth and post-birth. They are good for any pregnant woman regardless of the boobs size.
12. Front Closure Bra
Front open has been there since the inception of women bra. They are ideal for women with arm mobility issues or anyone who has difficulties handling the back bra hooks. Since there are no hooks present, front closure bras always feature an interesting back design mostly with lace. They are sometimes under wired and padded or not depending on your brand and taste. They are cool for women of all boobs size and shapes and are ideal for outfits with plunge necklines.
13. Mastectomy Bra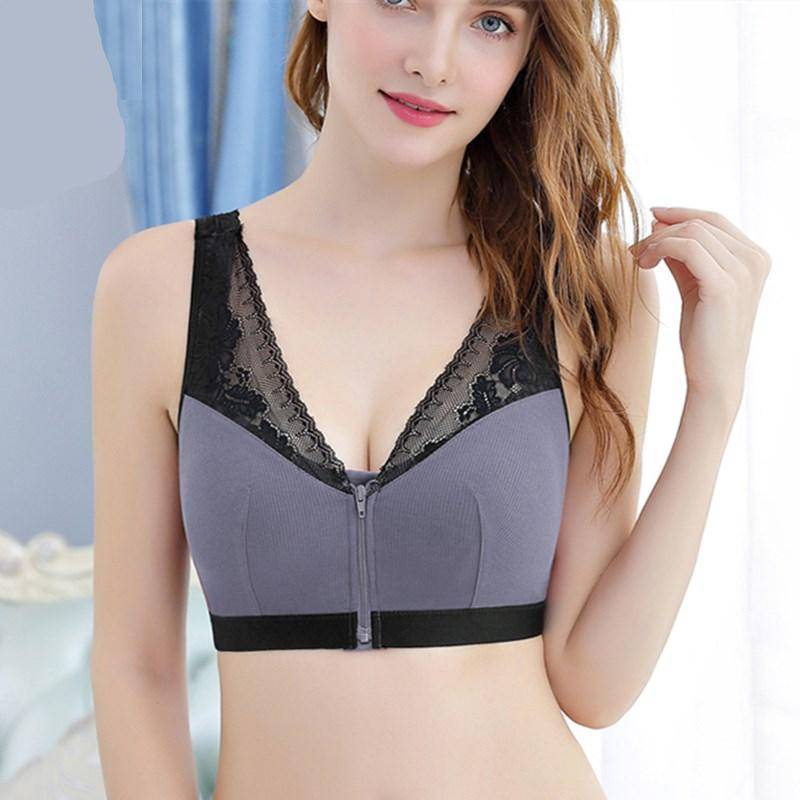 Mastectomy bras are designed for women who have had breast removal surgery. With pockets in the cups, you can insert breast prosthesis which help in natural appearance of breast post-surgery. Giving the right shape and support of your boobs, this boosts your confidence. Best paired with western tops, dresses and sarees.
14. T-Shirt Bra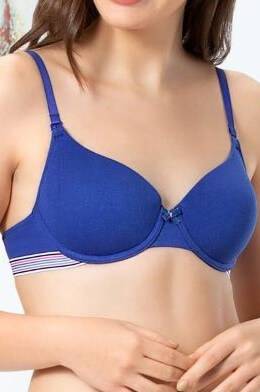 Designed to go invisible under body-hugging outfits, t-shirt bras are seamless, smooth cups that do not show and also support your breasts gently. They come in a variety of styles to choose from ranging strapless to plunge. This is a must have for every woman. They have molded protection and sometimes they have an underwire but not a must to be padded. They add rigidity and depending on your boobs size, they give a minimal look. The underwire offers complete coverage, and the whole idea is to take you far from fear of a double boob or a pop out. They can go with any event and T-shirts or anybody hugging outfits so this is your everyday choice of bra.
15. Longline Bra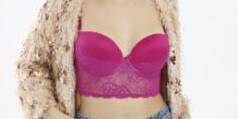 Just as the name suggests, long line bras extend till a little above your navel or over it depending on the brand while some might even be dual –purpose and help shape your waist. Long line bras have an extra-wide band that helps in slimming and giving that sleek and sexy look. They are usually snug and intact from the bust area till the end hence suitable for body hugging, corset, evening wear dresses and much more. The straps are thick and offer support to all boobs sizes and shapes though you need to be sure of the size because if the bra is too tight it may look bulgy and protruding.
16. Racerback Bra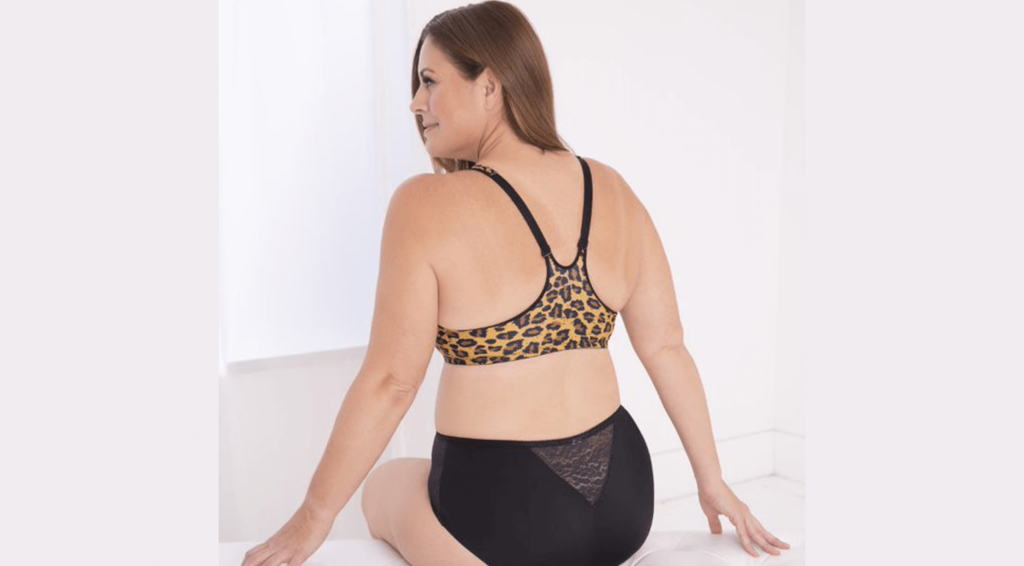 Racerback bra straps are joined between the shoulder blades so that straps don't go peeking out of your cute racerback outfit. They work best under outfits with similar back style. Racerbacks is a very comfortable piece of bra and feel light on the back. It is ideal for all breasts sizes and shapes provided you wear your fit.
17. Padded Bra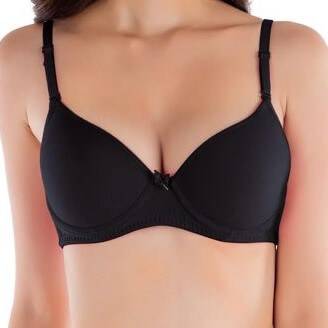 Padded bra is a mandatory to every woman's closet. They have different necklines and coverage for different sized boobs. Padded bras are made with padded cups or have pockets to insert pads into them. These kinds of bras prevent nipples from showing under your t-shirt or fitted outfit. These bras are good because they add volume and give your boobs a rounder look. Available in wired and non-wired designs, they come in all shapes and are a complement to your outfit.
18. Bralette Bra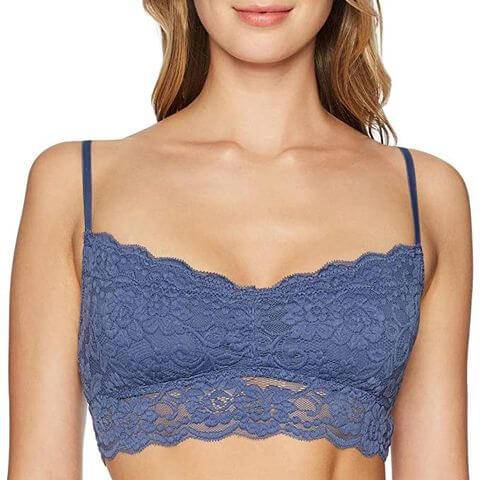 Usually unlined, unpadded and wire-free, bralettes are stylish as both underwear and outwear. The lack of wire in them makes it easier to slip it in on and move freely while wearing one. Bralettes is a bra that lies between a bra and a crop top. It is ideal for ladies with small and medium sized breasts. Also, it is good for parties and can go with outfits ranging from transparent one to backless to even crop tops and much more.
19. Demi Bra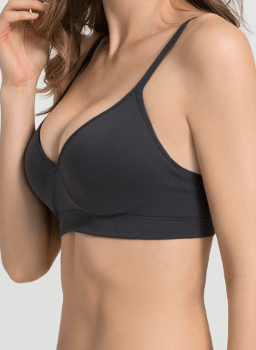 Demi means half so demi bra means half bra. The cups are half sized in comparison to a full cup bra. The bra covers less area of your boobs while ensuring that the nipple don't show. Being half bra and having support from an underwire, demi bras don't provide ample support like a full coverage bra and is mostly ideal for smaller breast sizes. Demi bras are good with low neck dresses.
20. Underwire Bra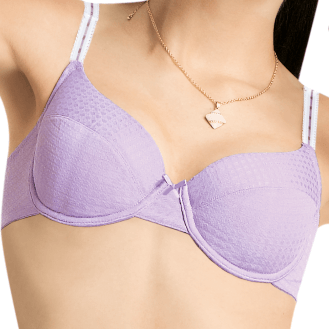 If you are curvy or you are looking for a bra that'll provide superior support, under-wired bra is the ideal pick. Under-wired has a stitched wire at the bottom of the cups to offer support and prevent any saggy appearances of the breasts and also shaping your boobs. The under wires also provides a gentle lift to the boobs making them look perkier. It works best with all outfits and it is mostly recommended to women with large sagging boobs.
21. Seamless Bra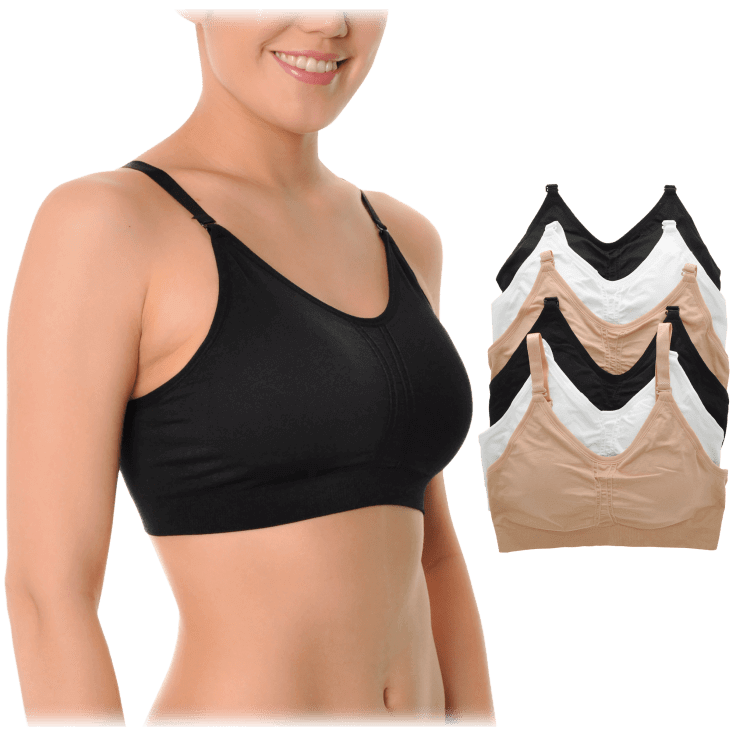 Body hugging tops are tricky because usually the bra shows underneath. Visible seams can ruin you look and even make you feel uncomfortable. Seamless bras are designated to have cups with no stitches for a smooth appearance. They are discreet and almost invisible under your clothes. They are designed with molded cups or double layer for structural integrity and nipple coverage. The cups are also designated to enhance your curves while giving them the fit and film looks. They are good for all breasts sizes and shapes and are best for body hugging outfits.
22. Cami Bra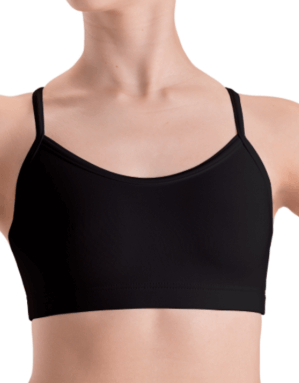 A Cami bra is the combination of style and functionality with the coverage of a camisole and the support of a bra. It features high necklines and full cups to conceal cleavage under deep neck outfits. Some Cami bra are under wired and padded to give a gentle rounded lift while others feature detachable straps for multiway styling. They look to achieve an invisible and smooth finish under your outfit. They are ideal for all breasts sizes and shapes.
23. Cage Bra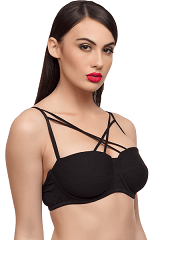 Cage bras are very sexy styles that feature multiple straps on the front and back meant to be shown off. These design is a must have for every diva. This type of bra is universally loved and is the true meaning of elegance, sexy and supportive. Cage bras are perfect for low cut and sheer back outfits. They are fit with all breasts sizes and shapes and can be worn alone with just a jacket. In simple terms, cage bra serves both as innerwear and outerwear.
24. Convertible Bras

Either One strap, two straps, Strapless or cross-back-straps, these types of bra have a wealth of styles to choose from. This means that you have a Demi Cup, Balconette and padded bra all in one. They have straps that detach at one or both ends for easy re-attachment to multiple ways to meet your different outfits. They are good for women with all breasts size and shapes. You want to be economical? Convertible is your way out. They are ideal for tank tops or racer back outfits.
25. Transparent Straps Bra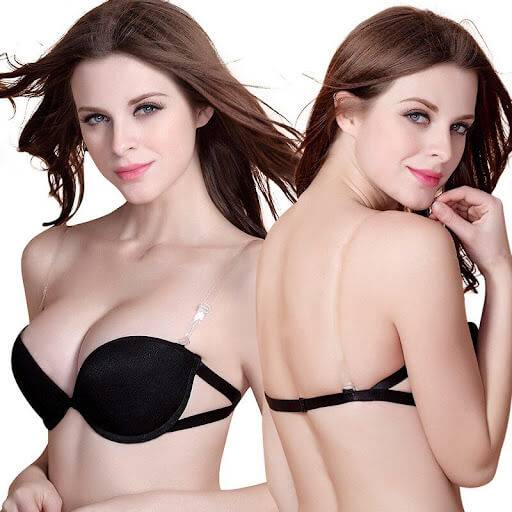 They come in a transparent back strap of shoulder bands. These straps are designed to go invisible under backless and strapless clothes which also give them a clean and smooth look. There are variants of transparent bra which are made of transparent and flimsy fabrics like satin and laces. Some transparent straps bra are not padded or wired. They are ideal for women with large breasts and compliment backless dresses or tops that come in noodle straps perfectly.
26. Halter-Neck Bra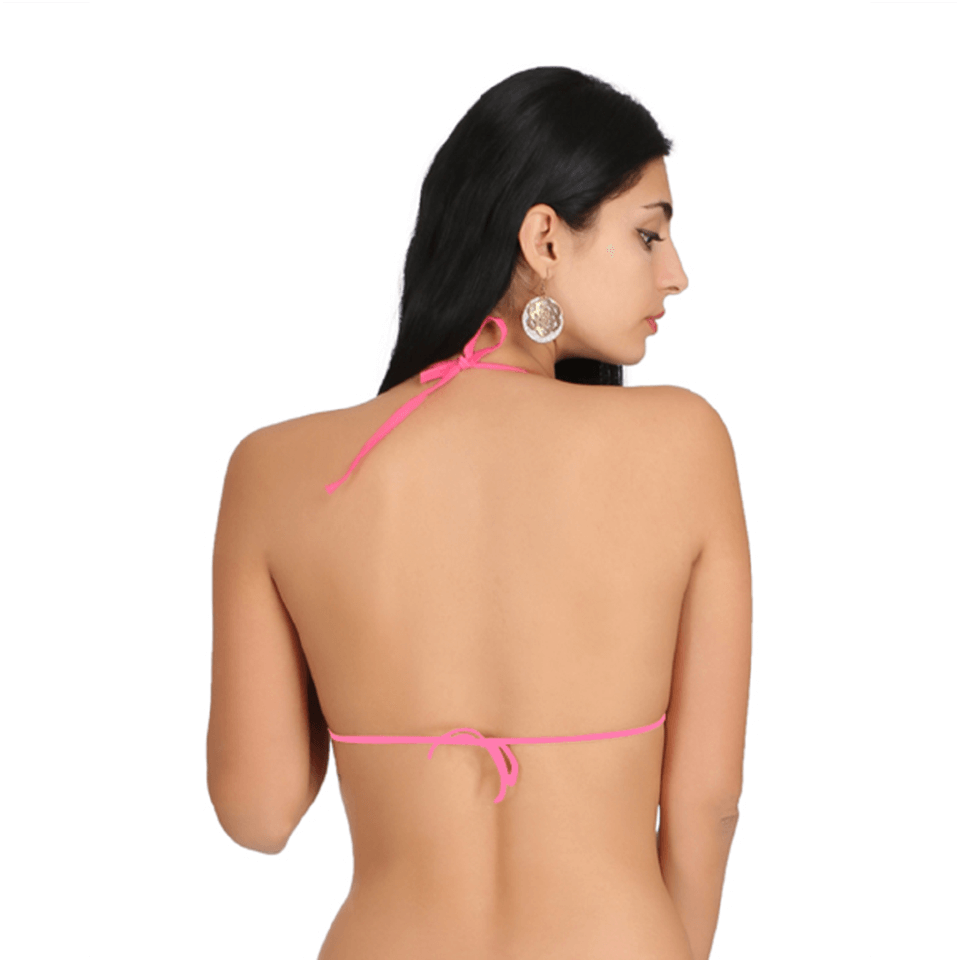 Sliding in bras is pretty hectic sometimes. That why you need to have a halter neck bra asap. It is designed to eliminate the straps from your back and have them go around your neck instead. It can either be a long strap around your neck or it can be two straps tied at the back of your neck. This is specifically designed to give you maximum support without compromising on your style. Due to these variations, the halter neck bra can be worn with a variety of outfits especially backless dresses and tops. The halter neck bra can be worn by any woman with any boobs size or shape.
27. Non-Padded Bra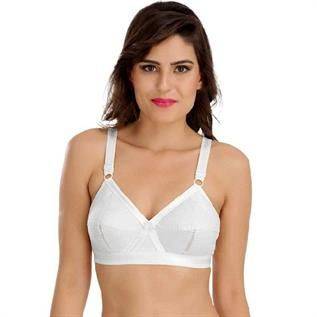 Non-padded bras best suited for women with large breast size and who don't want to add volume to their boobs with pads. The bulk free cups enhance the natural shapes of the boobs without making them look big or out of shape. The double layers stop the nipples from showing. They also can make your boobs appear smaller. They provide you with just the right amount of comfort and are so light you'll hardly notice you are wearing a bra hence the reason many women prefer them when they want to relax.
28. Built in Bra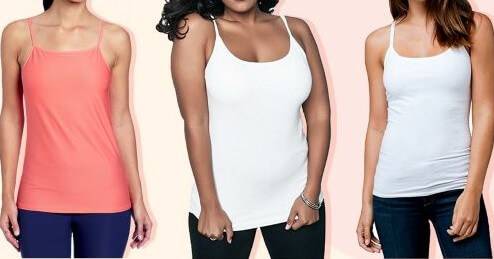 Camisoles and slips are comfortable to wear especially when you are at home. They only have one downside; the inability to provide any coverage to your bust. That's why built-in bras come in handy. They form the shaping and support structure in a camisole or a slip. The build-in bras are almost similar to blouse bras. They go perfectly well with your formal shirts or see-through sweaters and tops. They are also good for all boobs size and shapes.
29. Full Support Bra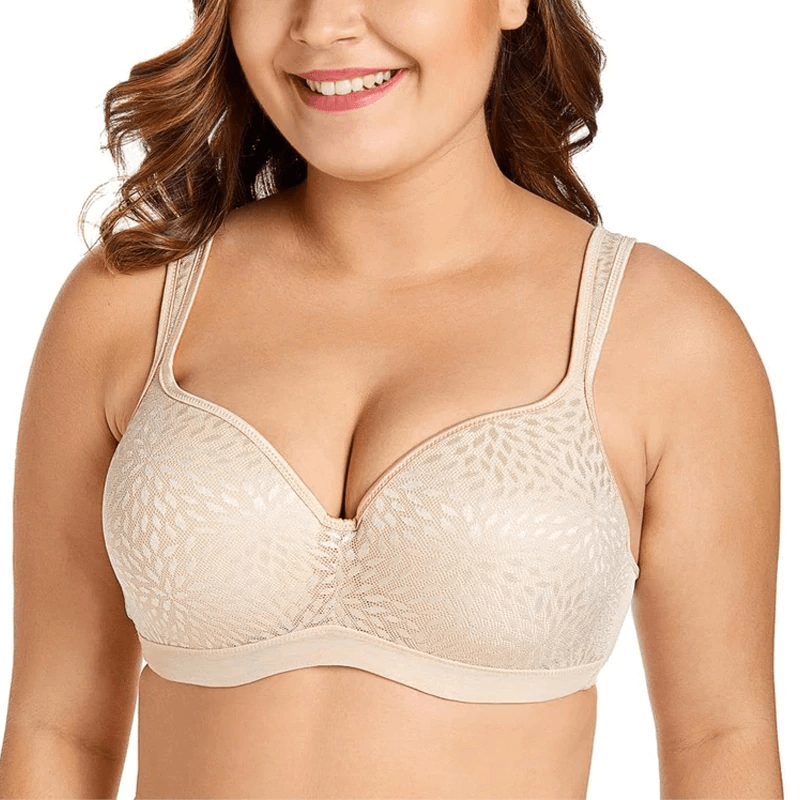 This is a must have bra for every woman. It offers bust coverage, zero spillage and maximum bust support. These bra work best with women with big and full boobs because they give shape to your breast. It is best for fully contoured look under any outwear you are wearing without affecting on high support or lift. Ideal for dresses, tops and T-Shirts.
30. Minimisers Bra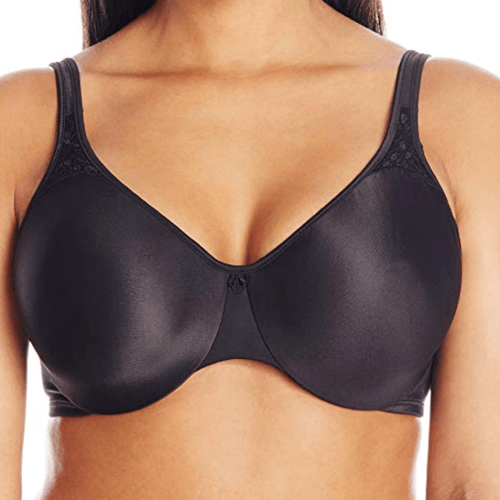 If you have ever tried to find a supportive bra for your heavy breasts, minimiser is just your thing. It is designed for women who want to reduce the appearance of a large bust. The bra is engineered to visually reduce the projection and the circumference of the chest by redistributing breast tissues to create the appearance of a smaller bust. They also provide extra support and shape your breasts for a proportionate look. They are ideal for women with large breasts and saggy ones.
31. Beginner Bra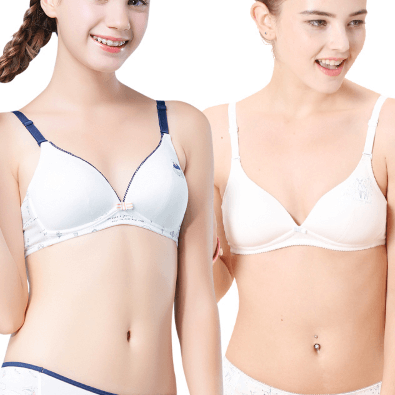 Adolescence can be confusing time for growing teenagers. Constantly changing of body and changes and also transition to wearing a full time bra can be hard. A beginner bra is a perfect getaway into this process. Designed as sports bra, they can be easily slipped into without any hustle of hooks or clasps. Most are non-wired and non-padded for comfort. Have built in pockets for removable cookies for nipple coverage.
32. Blouse Bra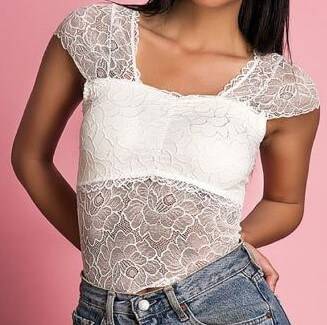 A blouse bra is a combination of a bra and a sexy blouse. This is like killing two birds with one stone; a sexy bra and a matching blouse. It gives you the style of a blouse with the complete support of a bra. It is mostly recommended for women with small boobs. You can pair it with a saree or a maxi skirt for sexy ethnic look.
Conclusion
Women undergo a series of change in their bodies like pregnancy, weight gain, and weight loss or spurts growth. That's why it is advisable for women to reassess their bust measurement after every six months to always have the right bra size. It is extremely important to have a proper fitting bra for a healthy and comfortable boob life. As you hunt for the bra that fits your liking, keep in mind the occasion and your breasts size for the best results.
Frequently Asked Questions
Answering some of the most common questions and the most common struggles women face with intimate wears today-
You may be spoilt for choices when it comes to bras, but how do you know which one's the best for you?
Let us help you answer them-
Which type of bra is best for daily use?
When we are talking day to day activities, comfort and style are the two major ruling factors we look for which is why, the best bra types for everyday wear can range from your classic ol' padded T-shirt bra to a medium-impact sports bra for maximum support and zero spillage. If you're the dare to bare kind who loves plunge necklines, a demi cup or a balconette bra could be the one for you.
Which type of bra is best for beginners?
When you're just starting out, comfort and coverage are the two dominant factors that beginner's should focus on which typically means teenage bras, sports bras, bralettes, and beginner bras would be the best. The main focus is to avoid complication. For instance, underwires, hooks, laces, slender straps and cups should be avoided for a seamless smooth beginner experience. With time, you can start experimenting with different styles.
Which type of bra is good for health?
The truth is, no bra is bad for your health. But you need to figure out the right bra for the right time for you. Usually T-shirt bras, preferably padded are best for everyday wear but when we are talking parties and events, nothing beats a classic strapless push-up bra to contour your curves the best. You can even consider sports bra a good fit if you like compact curves and increased support. However, underwire or adhesive bras should be kept to the minimum as it may not impact your health, but can impact your comfortability if worn for longer hours.
What type of bra do you wear with a backless dress?
A backless bra of course! You'll get lots of option with clear, transparent straps that plunge deep down allowing you to bare the back with confidence. Adhesives are a runner up with pasties and adhesive stick-on bras changing the way we ooze confidence in backless dresses with deep neck plunges. However, if you're yet to add a backless bra or adhesive to your collection, you can always turn your convertible bra straps into a cross-over fashion to go well with your backless dress.